Monitoring the SAP System
Effective monitoring of your SAP system is CRITICAL, according to SAP.
How valuable is your data?
At 1st Basis, we understand that if it makes sense to monitor the physical landscape (the hardware); it also makes sense to monitor the application running on it. Both represent a capital investment worth protecting.
But there is a dirty little secret! Often SAP systems are not monitored adequately, if at all. But without adequate monitoring, Basis Administrators are constantly putting out fires, and rarely preventing them (which is the main goal of monitoring).
1st Basis developed the 1st Watch system to help Basis Administrators monitor and maintain the SAP landscape. We designed 1st Watch to do this proactively because we'd rather prevent problems than report they happened—after the fact. We developed 1st Watch with the following core tenants.
The 1st Watch System will be:
Simple to install, configure and maintain.
Easy to customize to typical and specific use-cases.
Resilient and highly available (HA).
1st Watch is an integral part of our SAP Basis support and is included in every support agreement that requires SAP system monitoring. We intentionally built 1st Watch to offer the following key features.
Simple setup/customization
No agents to install
Pre-set thresholds
Customizable alerting/reporting
Secure Communication
TLS tunnel
SAProuter connection with Secure Network Communication (SNC)
Standard outbound single-connection collector
Alert Validation
As-a-user testing (Not just backend testing)
Alert analysis (Actionable only)
Alert persistence/resolution testing
Easily Scalable
Remote access (SAP monitoring only)
Internal node (OS/Database monitoring)
Robust Escalation
SMSand email alerts
Pager-system compatible (Alerts by phone)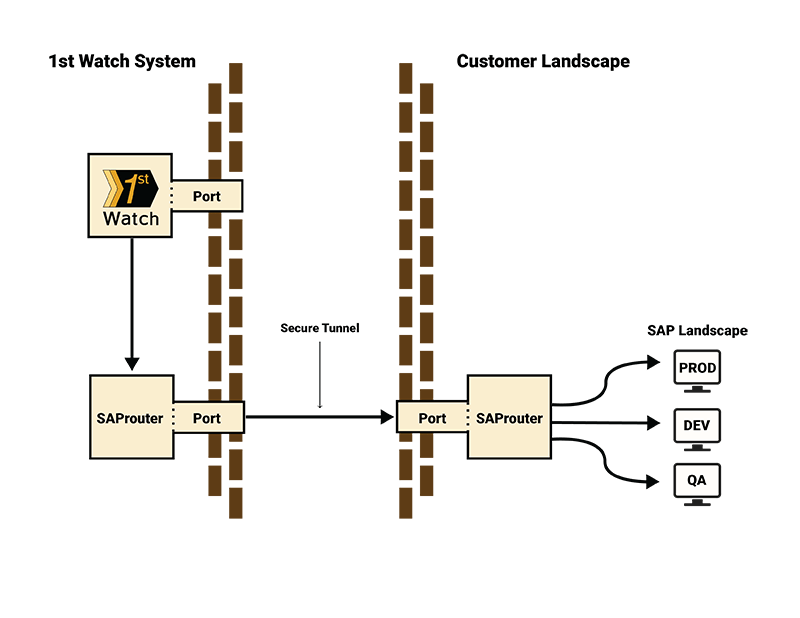 Our 1st Watch solution communicates with SAP systems over a standard SAP connection called an SAProuter (below). This is configured as a Secure Network Communication (SNC) between two SAProuters, creating a secure point-to-point connection. This allows the system to collect SAP-specific data from certain transactions, related to Basis monitoring.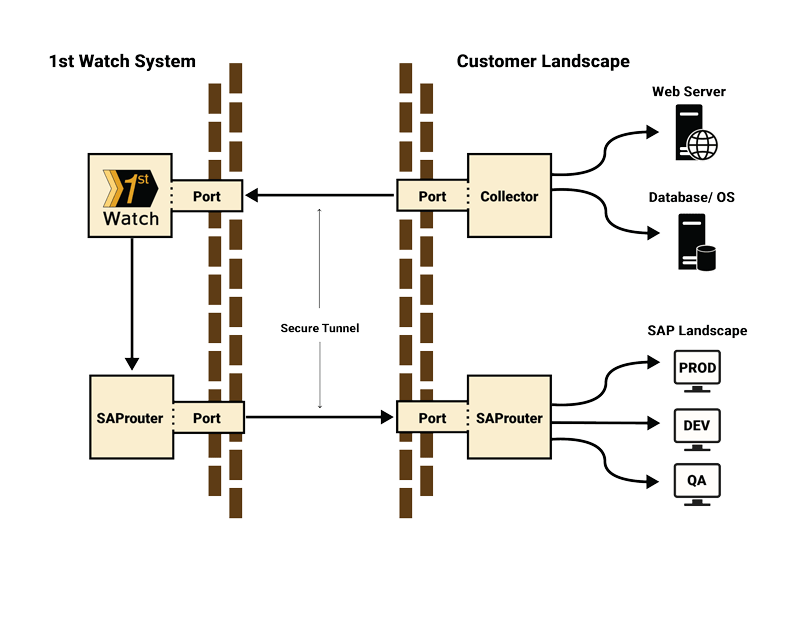 To add Operating System (OS) and Database (DB) monitoring, a collector is installed with a "phone-home" (outbound) connection over a Transport Layer Security (TLS) socket (below). The 1st Watch Collector enables the system to monitor OS, DB, Java systems and portals within the customer's SAP system. Historical and performance data are then available for analysis or reporting.

"1st Watch Monitoring with 1st Basis problem resolution provides us the kind of safety net they talk about. They are great!"
Doug Allison, Director IT Business Systems at Trinity Packaging
_________ Trusted by _________